Fort Lauderdale, known for its stunning beaches, vibrant nightlife, and thriving business district, has long been a sought-after destination for tourists and residents alike. In recent years, the city's transportation infrastructure has witnessed a remarkable transformation with the introduction of the Brightline high-speed train. Connecting major cities in South Florida, this state-of-the-art rail service is redefining the way people travel, offering convenience, speed, and comfort. In this blog post, we will explore the Brightline train in Fort Lauderdale, highlighting its features, benefits, and impact on the local community.
Locations
MiamiCentral (Miami): Located at 600 NW 1st Avenue, MiamiCentral is the southernmost station on the Brightline route. It serves as a transportation hub, offering connections to various transit options in downtown Miami.

Fort Lauderdale (Fort Lauderdale): Situated at 101 NW 2nd Avenue, the Fort Lauderdale station provides convenient access to downtown Fort Lauderdale and its surrounding areas.

West Palm Beach (West Palm Beach): The West Palm Beach station, located at 501 Evernia Street, offers a gateway to downtown West Palm Beach, including its vibrant arts and entertainment district.

Boca Raton (Boca Raton): The Boca Raton station is located at 101 NW 4th St, Boca Raton, FL 33432. It serves as a convenient stop for residents and visitors in the Boca Raton area.

Aventura (Miami): The Aventura station is situated at 19796 West Dixie Highway, Miami, FL 33180. It provides easy access to the Aventura Mall, one of the largest shopping destinations in South Florida.

Orlando (Orlando): The Orlando station, located at 10705 Jeff Fuqua Blvd, Orlando, FL 32827, is newest and northernmost stop on the Brightline route. It serves as a gateway to the city of Orlando, including popular attractions such as theme parks, resorts, and more.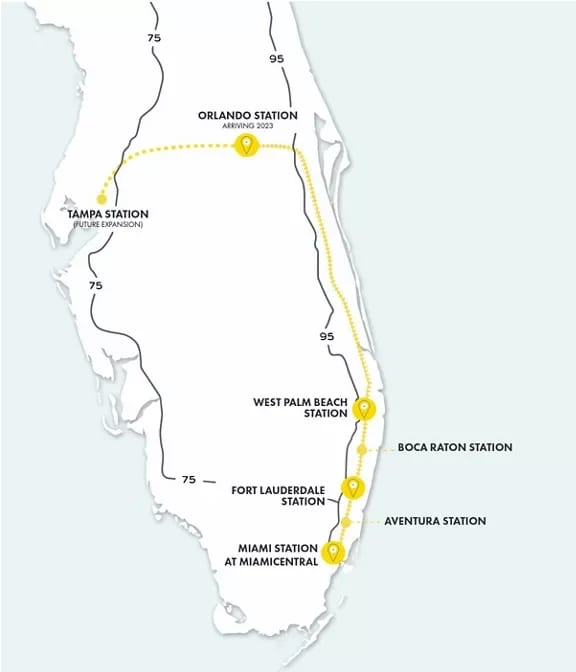 Brightline's new South Terminal at the Orlando International Airport (MCO) is a part of the company's Phase 2 expansion into Central Florida including a Tampa extension. The massive infrastructure project is making progress and encompasses four zones including the area of the Orlando International Airport and the Brightline Vehicle Maintenance Facility.
The Brightline Train: A Glimpse into the Future of Transportation:
The Brightline high-speed train, operated by Brightline Trains, is a privately owned and operated passenger rail system. Launched in 2018, this innovative train service has quickly gained popularity, providing an alternative mode of transportation for residents and visitors in South Florida. With sleek and modern trains, the Brightline promises a world-class travel experience.
Fort Lauderdale Station: A Hub of Connectivity:
Situated in the heart of downtown Fort Lauderdale, the Brightline Station offers seamless connectivity to the rest of the city and beyond. Located at 101 NW 2nd Avenue, the station is easily accessible and provides a convenient transportation option for both commuters and tourists. The station's strategic location enhances Fort Lauderdale's position as a regional transportation hub.
Speed and Efficiency: Reducing Travel Time:
One of the key advantages of the Brightline high-speed train is its remarkable speed. Operating at speeds of up to 79 mph, the train significantly reduces travel time between Fort Lauderdale and other major cities in South Florida, including Miami and West Palm Beach. Commuters can now enjoy a swift and efficient journey, avoiding traffic congestion and arriving at their destination in record time.
Unparalleled Comfort and Amenities:
The Brightline train sets new standards for passenger comfort. Each train features spacious seating, ample legroom, and complimentary Wi-Fi, allowing passengers to work, relax, or catch up on their favorite shows during their journey. Additionally, the train offers onboard food and beverage services, ensuring a delightful travel experience.
Environmental Sustainability:
In an era where environmental concerns are at the forefront, the Brightline train takes a step towards sustainable transportation. With its electric-powered locomotives, the train produces zero emissions, significantly reducing carbon footprints and air pollution. By choosing the Brightline, residents and visitors contribute to a greener future.
Boosting Local Economy and Tourism:
The introduction of the Brightline train has had a positive impact on Fort Lauderdale's economy. The train attracts tourists who prefer a convenient and eco-friendly mode of transportation, thereby boosting tourism revenue. Additionally, the train has created job opportunities and stimulated economic growth, benefiting local businesses and communities.
Conclusion:
The Brightline high-speed train in Fort Lauderdale has revolutionized transportation in South Florida. With its efficient service, cutting-edge amenities, and commitment to sustainability, the train offers an unparalleled travel experience. Whether it's commuting for work or exploring the vibrant cities of South Florida, the Brightline is transforming the way people move, making Fort Lauderdale an even more enticing destination. As the city continues to grow and evolve, the Brightline train will undoubtedly play a crucial role in shaping its transportation landscape for years to come.
Sources: